There may be no ceremonial keg tapping at the 2022 Oregon Brewers Festival, but there will be over 40 Oregon brewed beers pouring along the Portland Waterfront from today through Saturday, July 30th!
Another weekend of beer festivals begins on Thursday kicking off with Oregon's oldest running beer festival, the Oregon Brewers Festival which runs noon to 9:00 p.m. on Thursday, Friday and Saturday at Governor Tom McCall Waterfront park in downtown Portland between the Morrison bridge and Pike Street.  After work on Friday the Craft Beer and Wine Fest at Esther Short Park in downtown Vancouver starts at 5:00 p.m.  At noon on Saturday if you are in the Portland Metro area you can either hit up Hammer and Stitch's Makers Fair at their location in NW Portland or if you are south of downtown check out the lively lagers from McMenamins brewers across the PNW at the inaugural Lager fest at their Wilsonville Old Church and Pub location conveniently located right off of Interstate 5.  If you are lucky enough to be spending the weekend in beautiful Bend, check out 10 Barrels Beer Wars on the westside kicking off at 4pm where you can sample 20 beers across 3 categories and vote for your favorite.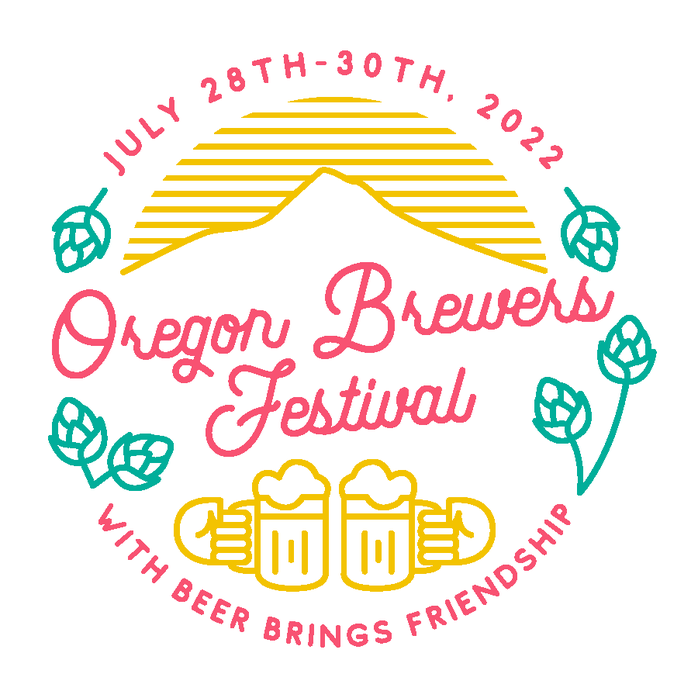 OREGON BREWERS FESTIVAL
THURSDAY JULY 28 – SATURDAY JULY 30
NOON – 9:00PM
The Oregon Brewers Festival takes place the last full weekend in July at Governor Tom McCall Waterfront park between the Morrison Bridge and Pine Street in beautiful downtown Portland, opening on Thursday, July 28th and ending on Saturday July 30th.  The Oregon Brewers Festival is not a ticketed event and there is no admission charge to enter the festival grounds and you can bring your kids. In order to consume beer or cider, you have to purchase a tasting package for $30 that includes a 2022 souvenir tasting mug and 10 tasting tickets (mugs are available on their own for $10).  If you have wooden tokens from previous festivals like I do you can bring them down and exchange them for this year's drink tickets as two wooden tokens is an equivalent of one current year's paper drink tickets.  Additional tickets cost $2 apiece. Mugs and drink tickets can be purchased in advance online for $30 ($33.85 with fees), or at the festival.  Patrons use three tickets for a full 12-oz mug of beer or one ticket for a 4-oz taste.
The 2022 lineup of beers will feature only beers brewed within Oregon.  Of the 41 beers being served, 31 beers will be making their debut at the OBF.  You can view the beer list online here.  The 10 beers I am going to try first have a + in front of them in no particular order.
There will be plenty of shade at the 2022…

Continue reading