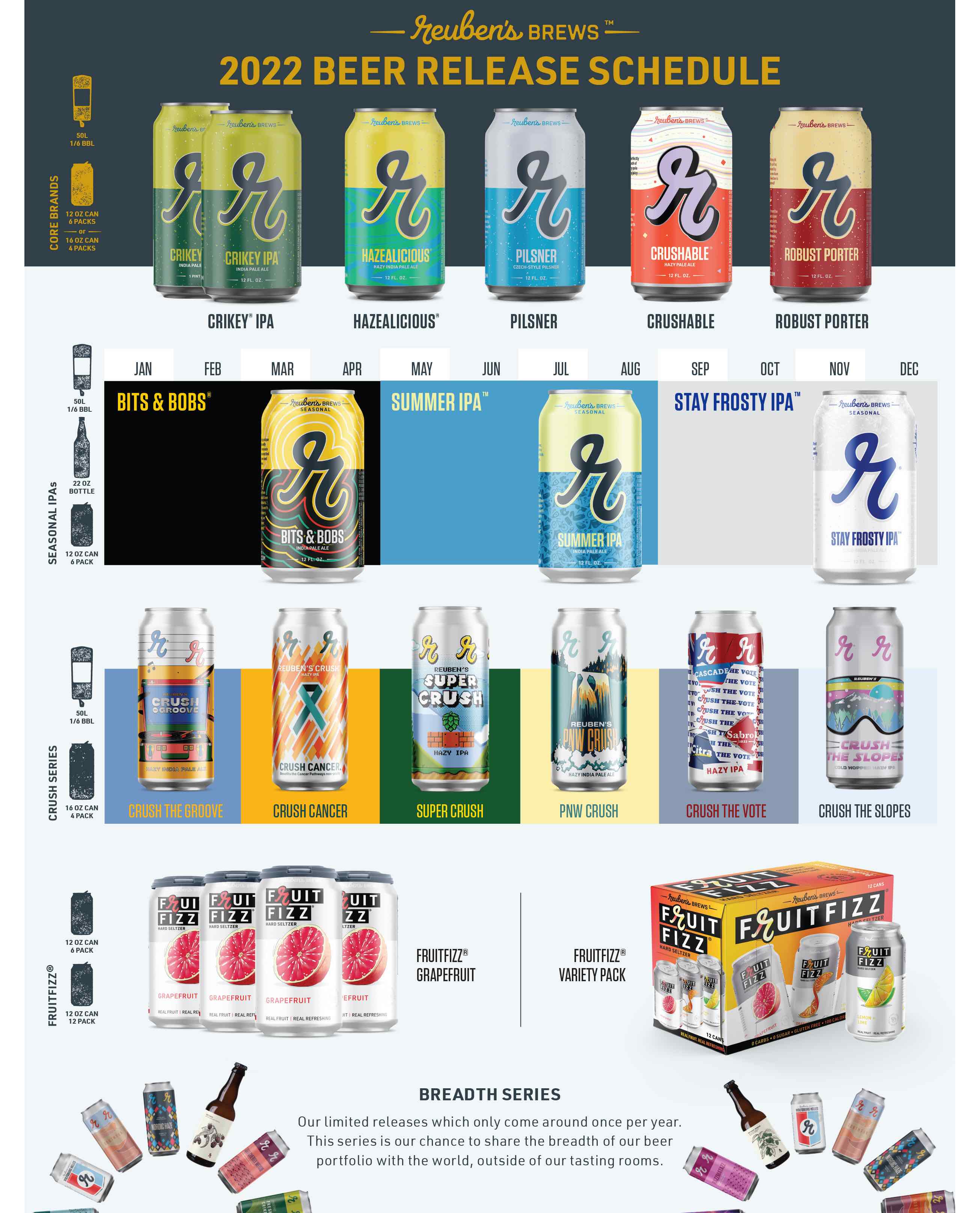 This year Reuben's Brews celebrates its Tenth Anniversary as it has announced its 2022 Beer Release Calendar. In addition to the published beers on this calendar that will hit broad distribution, Reuben's Brews will also release additional limited beers, including a series of collaboration beers, throughout the year.
"While we truly are just getting started and there is much more to come in the years ahead, we know that we could have never made it this far alone," said Reuben's Brews Co-Founder Adam Robbings, in a statement. "The success of the past 10 years is a testament to the many different people and partners who have been along for the ride. From brewers who inspired and/or encouraged us, to accounts that believed in us, to our most loyal supporters in our mug club, the Reuben's Crew, we wouldn't be who we are without these wonderful friends. We're excited to tell the story of our past 10 years through 10 collaboration brews with the amazing community that helped us get here."
The year-round offerings from Reuben's Brews will include many well know beers such as Crikey IPA Hazelicious, Pilsner, and Robust Porter. Joining these four beers is Crushable Hazy Pale Ale that'll be debuting in distribution soon, but for those in Seattle, the beer is now available at Reuben's Taproom.
The Seasonal IPA lineup begins with Bits and Bobs that'll be available through April. This year's recipe features HBC-1019, the special hop from Haas. Every year Bits and Bobs showcases hops that the brewery loves, that are new, or are new in unique ways. Bits and Bobs will be followed up by Summer IPA and then Stay Frosty IPA.
Reuben's Brews Crush Series will see six tallboy can releases in 2022. The Seattle brewer will release a few smaller releases from its Breadth Series, including Blimey That's Bitter that will be released in the coming weeks. In addition to these beers and many more, Reuben's Brews will continue with Fruitfizz, its lineup of Hard Seltzers.
But the biggest news for the brewery's 10 Year Anniversary is its 10th Anniversary Collab Series. This series kicked off last week with Metamodern PNW Amber Ale, a bold collaboration with Georgetown Brewing. Manny Chao, co-founder of Georgetown Brewing, is responsible for some of the classic PNW beers that first got Robbings excited about the world of craft beer, especially his eponymous Manny's Pale Ale, so there's no better place to kick off the series. To celebrate, Reuben's is hosting a release party for this beer and the whole series of beers on January 15th at their Taproom, with Manny from Georgetown and Adam from Reuben's making a special toast with members of the Georgetown Brewing and Reuben's Brews teams in attendance. The 5.5% ABV, 35 IBU Metamodern PNW Amber Ale will be distributed in kegs and 4-pks of 16 oz. cans, as well as being available at both the Reuben's Brews Taproom and the Georgetown Brewing…