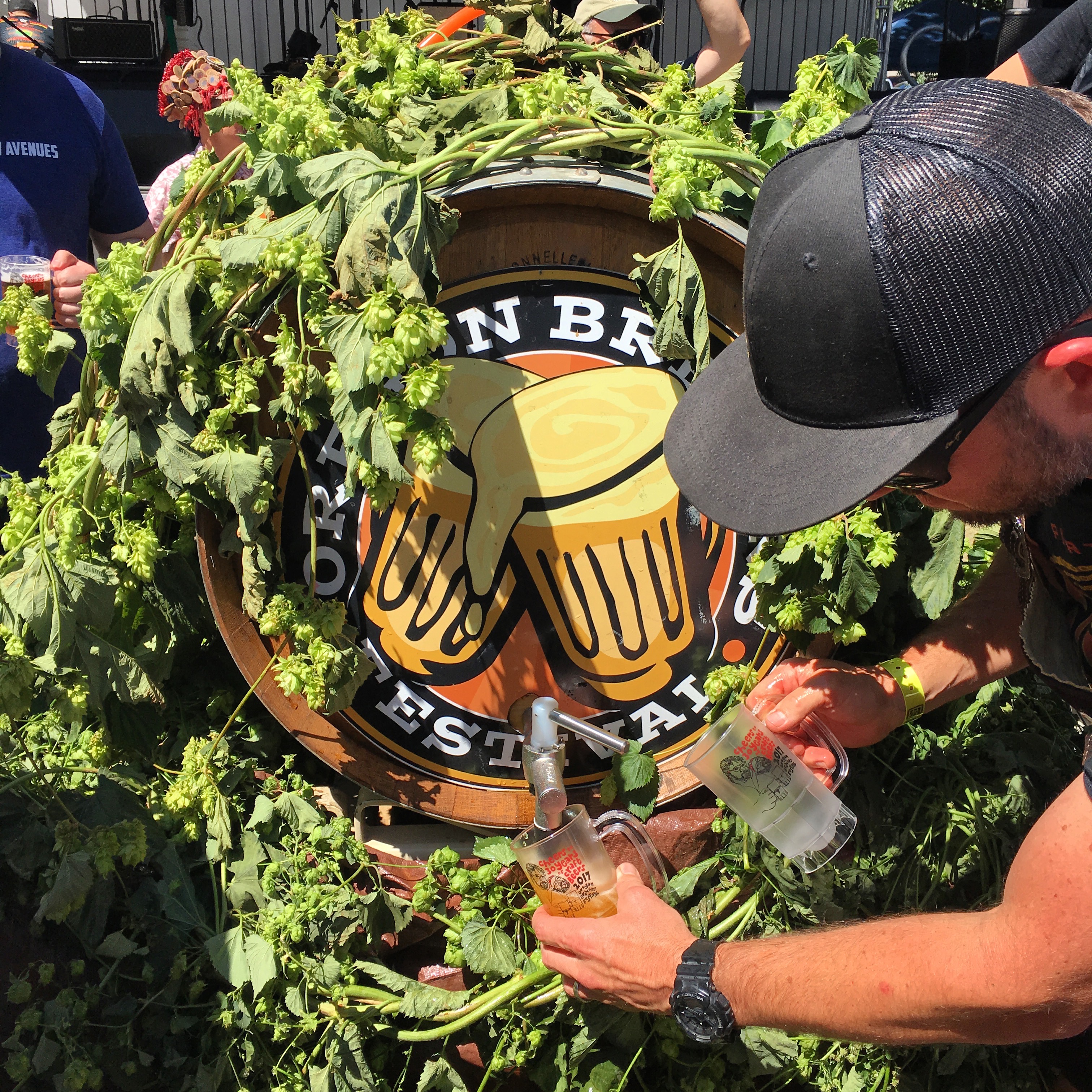 Christian Ettinger from Hopworks Urban Brewery tapping the ceremonial keg at the 30th annual Oregon Brewers Festival.
It's been three years since the last Oregon Brewers Festival was held at  Tom McCall Waterfront Park. But this dry spell will end as the 2022 OBF returns to Portland's waterfront for the 33rd year from Thursday, July 28 through Saturday, July 30.
With the festival's return, this year will see a smaller array of beers as only 40 breweries have been invited to pay for their spot in the festival. All 40 beers served will all hail from the state of Oregon. Organizers state that 80% of the beers will either be exclusive to the festival, or making their debut there. One part of the festival that will not be returning this year is the Brewers Parade and likely along with it, the Brewers Brunch.
As always, the 2022 Oregon Brewers Festival will offer a wide variety of beer styles, and attendees will have the opportunity to choose from a wide variety of brews to include Belgians, goses, hazy IPAs, pilsners, saisons, pale ales, sours, fruit beers and more. The list of participating breweries includes larger, established operations as well as some of Oregon's newest brewers. Two Oregon ciders will also join the lineup, and Crater Lake Root Beer will be on hand for designated drivers and non-drinkers.
34 years ago, in 1988, there were just seven craft breweries in Oregon, and only 199 in the United States. All were invited to take part in the inaugural Oregon Brewers Festival, a two-day event billed as "the first gathering and exhibit of independent brewers in the United States." Today, there are more than 9,000 craft brewers in the US, with over 300 of them in Oregon, according to the Brewers Association.
Prior to the COVID-19 pandemic, Portland – aka "Beervana" – was considered the #1 large metro area for beer tourism, according to Travelocity's Beer Tourism Index. The Oregon Brewers Festival has repeatedly been named among the top beer festivals in the United States, attracting tens of thousands of visitors from outside of Oregon, including international tourists.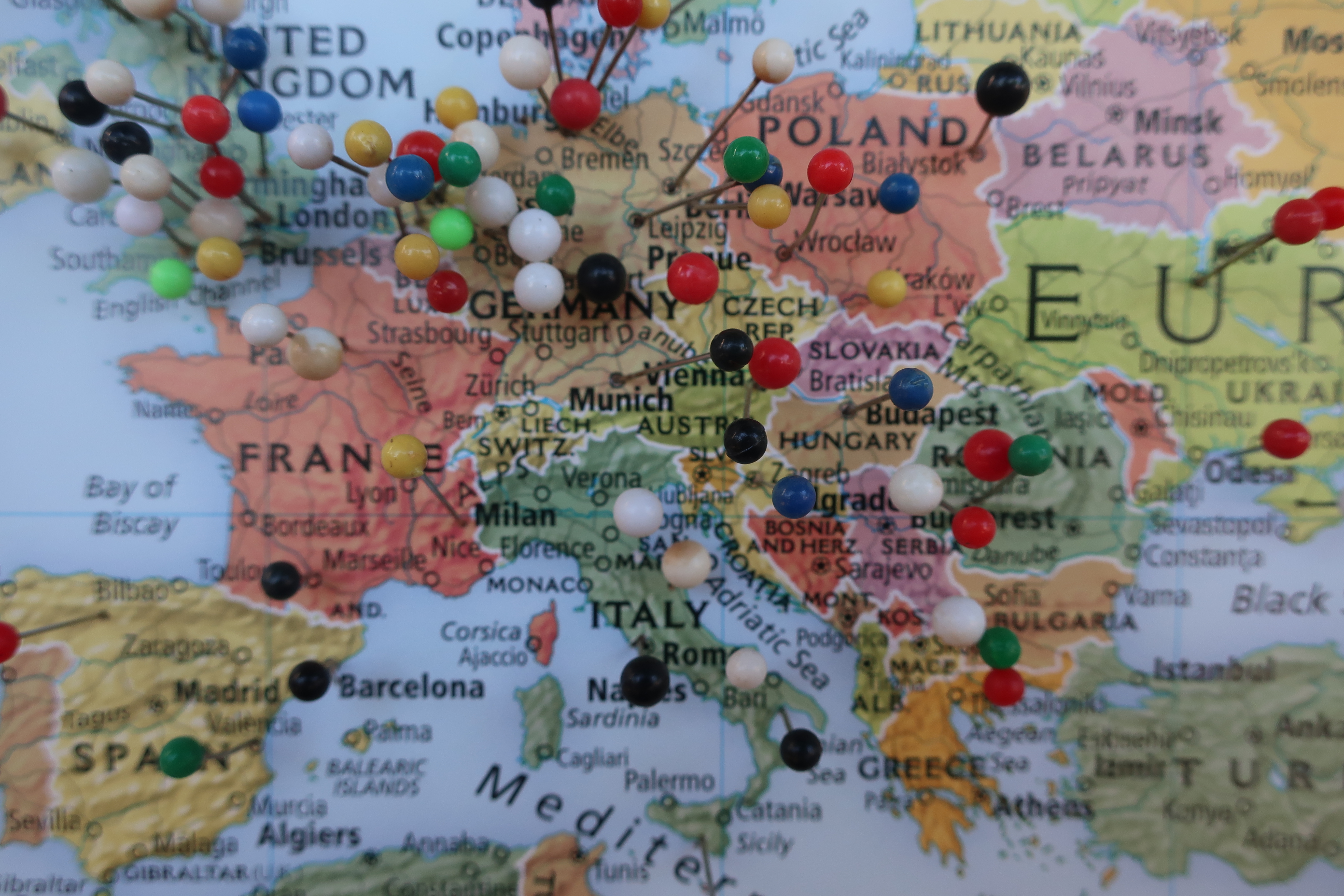 Where Do You Com From? at the 2018 Oregon Brewers Festival.
2022 Participating Breweries:
Alesong Brewing and Blending
Boneyard Beer
Breakside Brewery
Buoy Beer Co
Caldera
Cascade Brewing 
Coin Toss Brewing
Crux Fermentation Project
Deschutes Brewery
Double Mountain Brewery and Cidery
Ecliptic Brewing
Evasion Brewing
Ex Novo Brewing 
ForeLand Beer
Fort George Brewery
Gigantic Brewing
GoodLife Brewing Co.
Gorges Beer Co.
Great Notion 
Hammer & Stitch Brewing Company
Hopworks Urban Brewery
Level Beer
Migration Brewing Company
Monkless Belgian Ales
Ninkasi Brewing Company
pFriem Family Brewers
Rogue Ales 
Steeplejack Brewing Company
Stickmen Brewing
StormBreaker Brewing
Sunriver Brewing Company
Terminal…