Here's a guide that'll take the guesswork out of pairing your favorite wine with Mexican food.
With an impressive array of dishes born in each of Mexico's 32 states, it provides us with an unlimited palette of delicious wine pairing possibilities!
But all those complex, spicy dishes can be intimidating for new wine buffs. However, with the right eye for ingredients, you can match these dishes beautifully.
And let's not forget that Mexico is also busy making some amazing wines of their own.
What Drink Goes Best With Mexican Food?
Traditional Mexican cuisine is composed of core ingredients like corn, beans, chilies, and spices. Each of their flavors create beautiful connections with different styles of wine, and results in mouth-watering pairings.
Last Minute Gifts
Digital Products ship in time for Christmas!
When pairing food in general, it helps to think of the wine itself as an ingredient, and that's no less true with Mexican food.
Wine with Mexican Ingredients
Here you can find the most suitable wines for some of the most common ingredients found in Mexican cuisine. Getting to know these ingredients will familiarize you with Mexican cuisine while helping you create complementary dishes of your own:
Beans: Medium-bodied reds.
Tomatoes, Onion, Garlic: Medium-bodied Reds
Chilies (Guajillo, Ancho, Chipotle, Pasilla): Medium-bodied reds, rosé.
Cilantro, Epazote, Avocado: Light-bodied whites.
Oregano, Thyme: Medium-bodied reds, rosé.
Cinnamon, Vanilla, Cumin, Clove, Cacao: Sparkling wines, full-bodied whites, medium-bodied reds, and rosé.
Corn: Typically more neutral, so refer to the other main ingredients of the dish on this one.
Pairing Wine with Mexican and Tex-Mex Dishes
Of course, it might be easier for some to start with popular Mexican dishes and their appropriate pairings before they go out and attempt their own.
So here are some classic Mexican and Tex-Mex dishes that'll give you a jump start!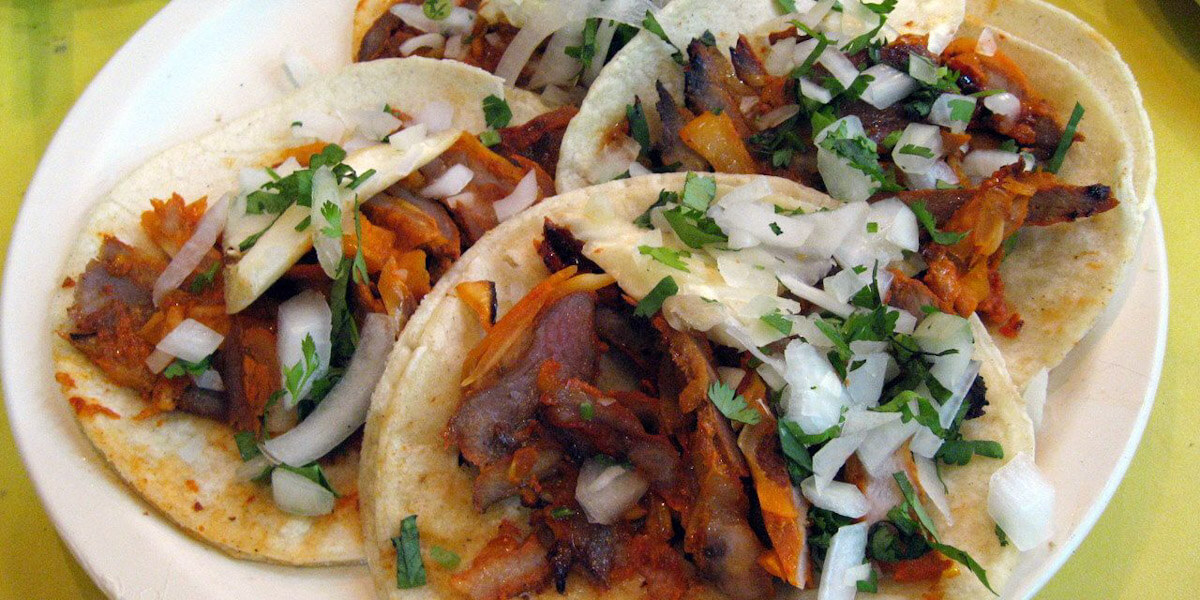 Tacos al Pastor. Source.
Tacos Al Pastor
Originally a Lebanese influenced taco, Tacos Al Pastor have become one of the most emblematic street food dishes of Mexico City.
Ingredients: Corn tortilla, pork marinated with chilies (guajillo, ancho and chipotle) and spices (clove, cumin, oregano), pineapple, onion, and coriander.
Pairs With: Bandol Rosé, Tavel Rosé.
Why It Works: A rosé with a good sense of body to it will complement the pork, spices, and fruit of Tacos Al Pastor, and avoid overpowering it.
Quesadillas. Source.
Quesadilla
Found originally in Central and Southern Mexico, this grilled, cheese-filled tortilla has become ubiquitous with Mexican restaurants all over the United States and beyond.
Ingredients: Corn tortilla (though flour tortillas are increasingly common), cheese, green or red salsa, onions, and guacamole.
Pairs With: Riesling, Chardonnay, French Sauvignon Blanc.
Why…