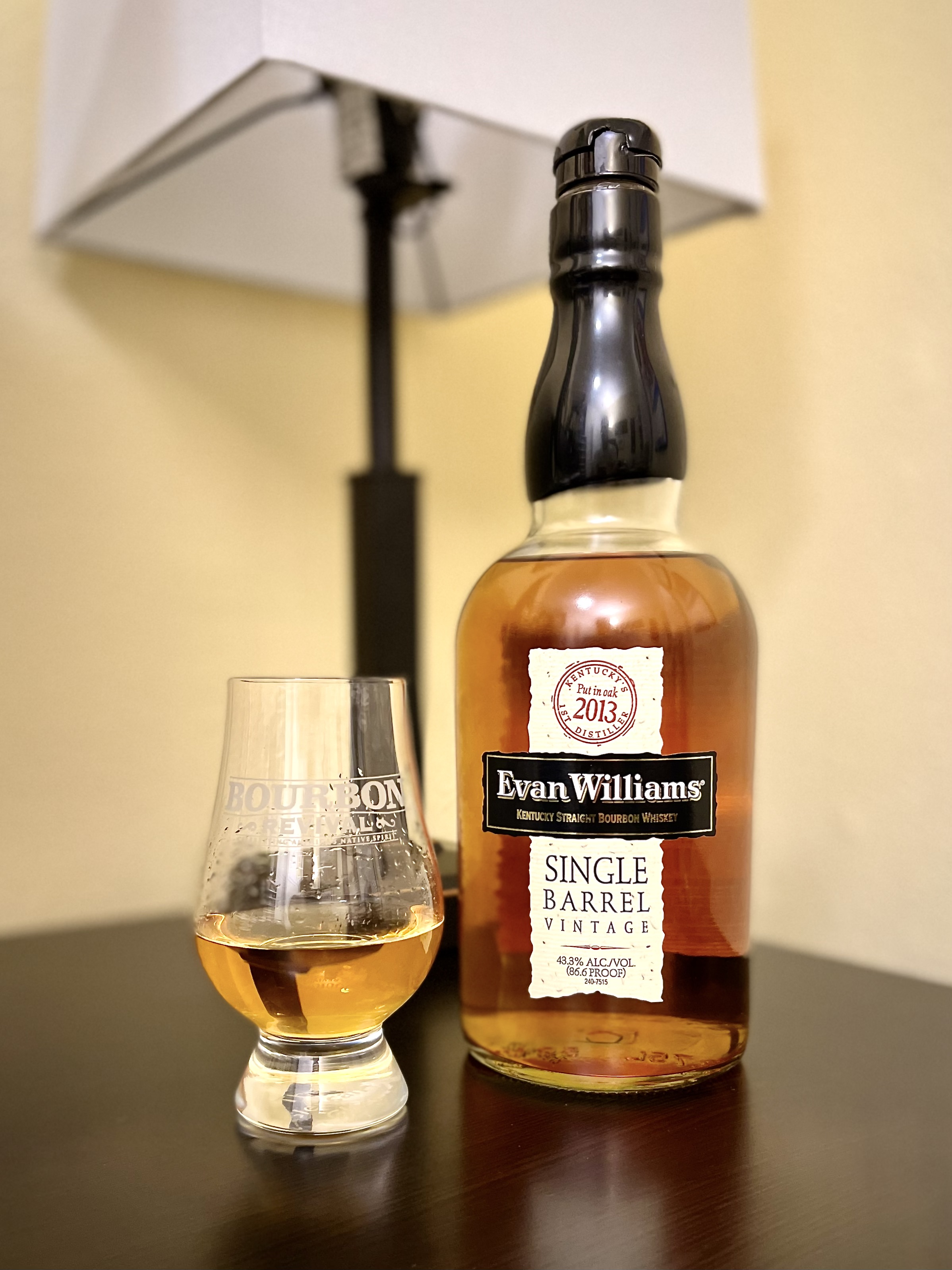 A dram of Evan Williams Single Barrel – Vintage 2013.
The first single-barrel bourbon that was sold commercially was by Blanton's in 1984. Eleven years after the debut of this single-barrel bourbon, Evan Williams Distillery launched Evan Williams Single Barrel, a Kentucky Straight Bourbon Whiskey.
Now under the ownership of Heaven Hill Distillery for the past 23 years, Evan Williams Single Barrel will become a much more limited release bourbon. It was recently announced that going forward, Single Barrel will be only available in the Commonwealth of Kentucky.
Evan Williams dates back to 1783 but after a few dormant years, the current brand started back up again in 1957. Since the 50s, Evan Williams has been known to offer a great bourbon at an exceptional price point. We are fans of Evan Williams Bottled in Bond and also enjoy Evan Williams Single Barrel. Where we use the White Label for creating cocktails, Single Barrel is a great sipper at the precise 86.6 proof!
Once inventory of Evan Williams Single Barrel is depleted on store shelves, the Bourbon will only be sold at the Evan Williams Bourbon Experience and select Kentucky retailers. Compared to the distillery's larger movers – Evan Williams Black Label, Evan Williams Bottled in Bond and Evan Williams 1783 Small Batch – there are additional costs in producing Single Barrel.
Heaven Hill takes much more time in the bottling of Evan Williams Single Barrel, a 7-to-8-year aged bourbon. The bottle topper is sealed in black wax and each label is vintage dated, all adding to the cost of the bottle. Essentially there are just not enough barrels to support a nationally available Single Barrel product.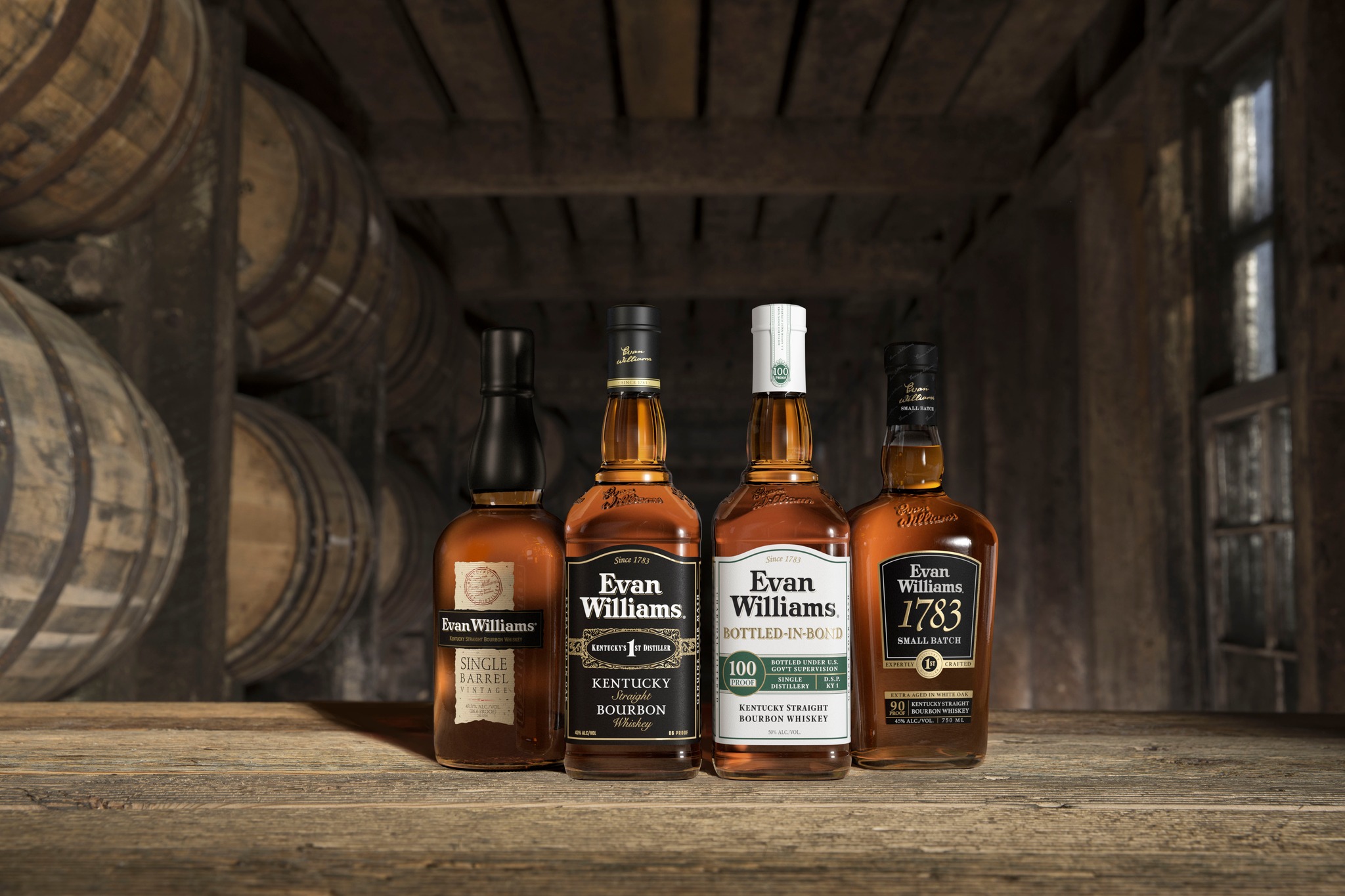 image of the current lineup of Evan Williams Bourbon courtesy of Evan Williams Distillery
From tasting Evan Williams Single Barrel it pours an amber-gold color. The nose if full of caramel, maple, and spiced apples that makes for some excitement leading into the palate. Flavors of honey, apple, coffee, and oak fill your taste buds. It finishes very smooth with a pleasant lingering spice on the tongue. A lovely bourbon!
Evan Williams Single Barrel has been awarded Double Gold in the 2021 San Francisco World Spirits Competition, Consumers' Choice at the 2021 SIP Awards, 96 Points in the 2019 Ultimate Spirits Challenge, and one of 5 Great Bourbons of 2014 by Food & Wine Magazine.
One cocktail recipe that is perfect for using Evan Williams Single Barrel is the timeless Manhattan. Here's an easy recipe to create this classic cocktail.
Classic Manhattan
Ingredients:
2 oz. Evan Williams Single Barrel Bourbon
3/4 oz. Sweet Vermouth
2-3 dashes Angostura® Bitters
Cherry
Instructions:
Build and stir in pre-chilled cocktail glass. Garnish with cherry.