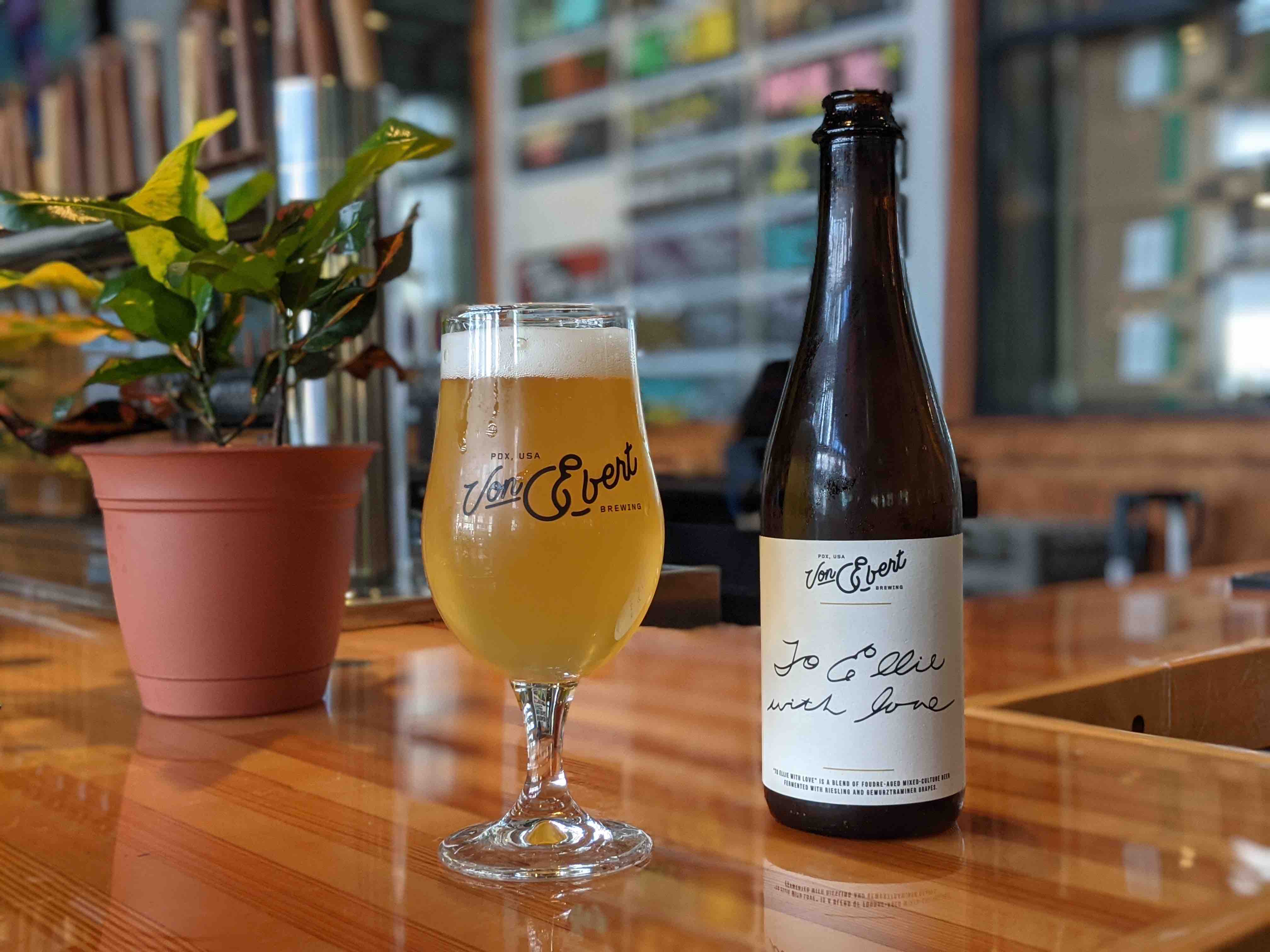 image of To Ellie, With Love courtesy of Von Ebert Brewing
Von Ebert Brewing has released To Ellie, With Love, its latest beer in the brewery's Heritage Beer program. To Ellie, With Love is a beer/wine hybrid that is dedicated to the two-year-old daughter of founder Tom S. Cook. The beer will eventually become an annual offering, with a different recipe each year.
"I saw this beer as a way to connect two of the biggest priorities and loves in my life – my family and the brewery," explained Tom S. Cook, owner, Von Ebert Brewing, in a statement. "In a way, the beer is part of a generational tale. The name Von Ebert is an ode to my great-grandmother."
Cook continues, "As the brewery continues to build its presence in the world, naming this beer after my daughter is a way to connect three generations of my family very directly to the brewery. Someday, when my daughter is old enough, I can show her this series of beers and better explain what it is we do on the brewing side of Von Ebert and what it means to our family. It's a way to convey that I do this not just because I love beer, but because I love her."
Even the beer's label brings a familial nature to the beer. The handwriting on its label was transcribed from a note in a book given to Cook's daughter from her maternal great-grandmother.
To Ellie, With Love is a blend of foudre-aged mixed-culture beers with Gewurztraminer and Riesling grapes. The 6.8% ABV beer is described as  containing flavors of pear, lychee, and honeycomb.
"For this beer/wine hybrid, we used white wine grapes," stated Jason Hansen, Lead Brewer & Blender, Von Ebert Glendoveer, in a statement. "Northwest-grown German wine varietals were paired with a blend of mixed-culture Heritage beer to create an intriguing mash-up of complex aged beer and easy-drinking summer wine. This will be a perfect beer to enjoy on the patio on warm summer nights while taking in a beautiful sunset."
To Ellie, With Love is now available at both Von Ebert pub locations, Glendoveer and the Pearl, in bottles for on-site consumption or to-go.
About The Author
DJ
D.J. is a Portland, Oregon based writer that spent his formative years in the Midwest. With over 25 years under his belt of drinking beer at festivals across America and the world, he has developed a strong appreciation and understanding of craft beer and the industry that surrounds it. He can be found in any of the great breweries or beer bars that make Portland the best beer city in the world. His writing can also be found in the archives of Northwest Brewing News and can be followed on Twitter and Instagram at @hopapalooza.