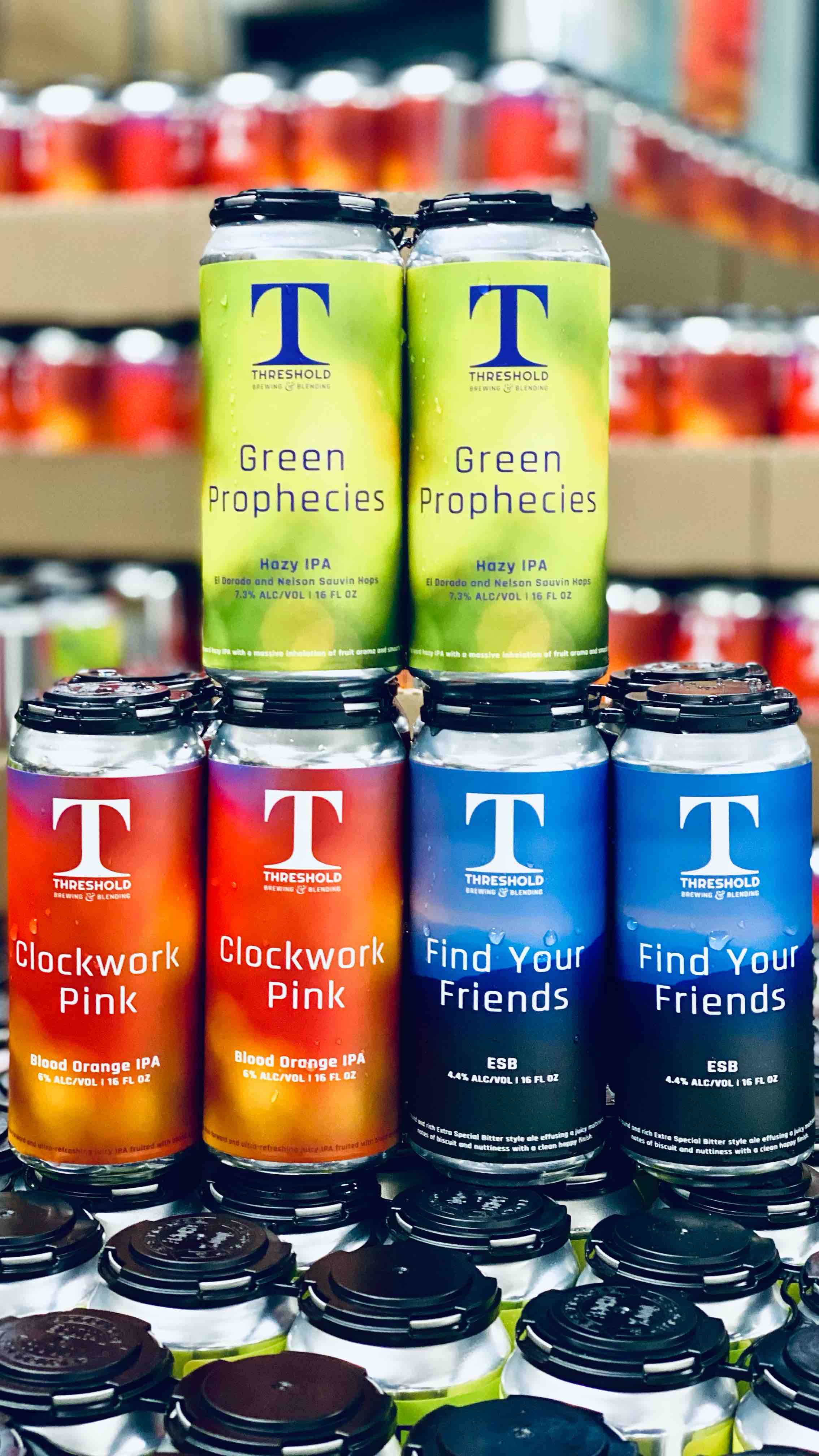 Threshold Brewing Triple Can Release – Find Your Friends, Clockwork Pink and Green Prophecies. (image courtesy of Threshold Brewing)
Three new cans have arrived this week from Threshold Brewing & Blending. Look for Find Your Friends and Clockwork Pink will join Green Prophecies packaged in 16oz cans and on draft beginning on Friday, August 27th
Here are details on the three beers as provided by Threshold Brewing.
Find Your Friends ESB, 4.4%
A round and rich Extra Special Bitter effusing a juicy maltiness, notes of biscuit and nuttiness with a clean hoppy finish. We love a good ESB and are excited to bring this refreshing style to Threshold's taplist and distribution.
Clockwork Pink Blood Orange IPA, 6%
A citrus-forward juicy IPA fruited with blood oranges – ultra-refreshing, bright citrus-rind bitterness and beautifully pink in color. This is a Threshold fan-favorite, first brewed back in 2019 and again in 2020, although only on draft. Now available in cans for the first time!
Green Prophecies Hazy IPA, 7.3%
A hop-balanced hazy IPA with an initial inhalation of fruitiness and resonating earthiness. Dry-hopped with El Dorado and Nelson Sauvin. Every time we release a new hazy, we claim it's our favorite. Hey, it's true! This time is no exception, we can't get enough of the intoxicating aroma, an initial fruitiness and an intriguing earthy quality that keeps our palates interested to the last sip. Tapped a couple of weeks ago at Threshold and now available in 16oz cans as well.
Threshold Brewing & Blending
403 SE 79th Ave
Portland, OR 97215
About The Author
DJ
D.J. is a Portland, Oregon based writer that spent his formative years in the Midwest. With over 25 years under his belt of drinking beer at festivals across America and the world, he has developed a strong appreciation and understanding of craft beer and the industry that surrounds it. He can be found in any of the great breweries or beer bars that make Portland the best beer city in the world. His writing can also be found in the archives of Northwest Brewing News and can be followed on Twitter and Instagram at @hopapalooza.