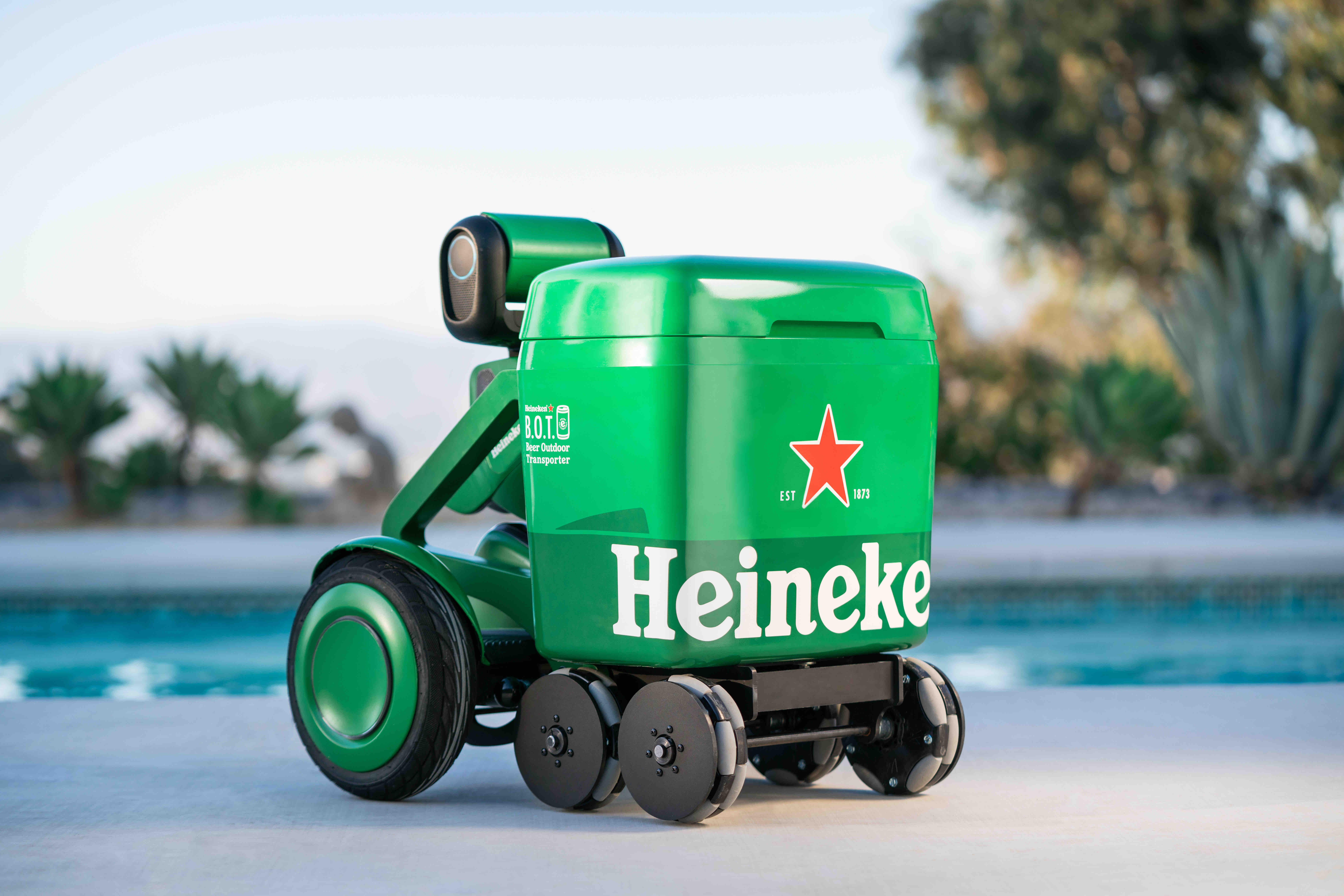 image of the Heineken Beer Outdoor Transporter courtesy of Heineken
Ever wanted your beer delivered to you by a robot? Well if you're feeling lucky, Heineken may have the perfect companion for your beer drinking needs with the new Heineken B.O.T..
This autonomous robot cooler uses a motion sensor to automatically follow its owner wherever they go. The B.O.T. (beer outdoor transporter) carries a 12-pack of Heineken cans and is said to even be able to speak.
This extremely limited-edition Heineken B.O.T. will only be available for fans to win on Thursday, July 1 at www.HeinekenBOT.com.
The Heineken B.O.T. is made to be the ultimate summer companion. It's a first-of-its-kind autonomous robot that responds to voice-activated commands and has self-carrying technology, staying close to its owner through a motion sensor. The B.O.T. allows its owner to customize responses, voice commands and actions through the easy-to-use mobile app.
The Heineken B.O.T. can carry about 7 liquid gallons, or about 12 cans of Heineken— with plenty of room for ice.
The sweepstakes to win the Heineken B.O.T. is open on July 1, 2021 from 12:01 a.m. to 11:59 p.m. ET. Fans can enter to win at www.HeinekenBOT.com.
About The Author
DJ
D.J. is a Portland, Oregon based writer that spent his formative years in the Midwest. With over 25 years under his belt of drinking beer at festivals across America and the world, he has developed a strong appreciation and understanding of craft beer and the industry that surrounds it. He can be found in any of the great breweries or beer bars that make Portland the best beer city in the world. His writing can also be found in the archives of Northwest Brewing News and can be followed on Twitter and Instagram at @hopapalooza.