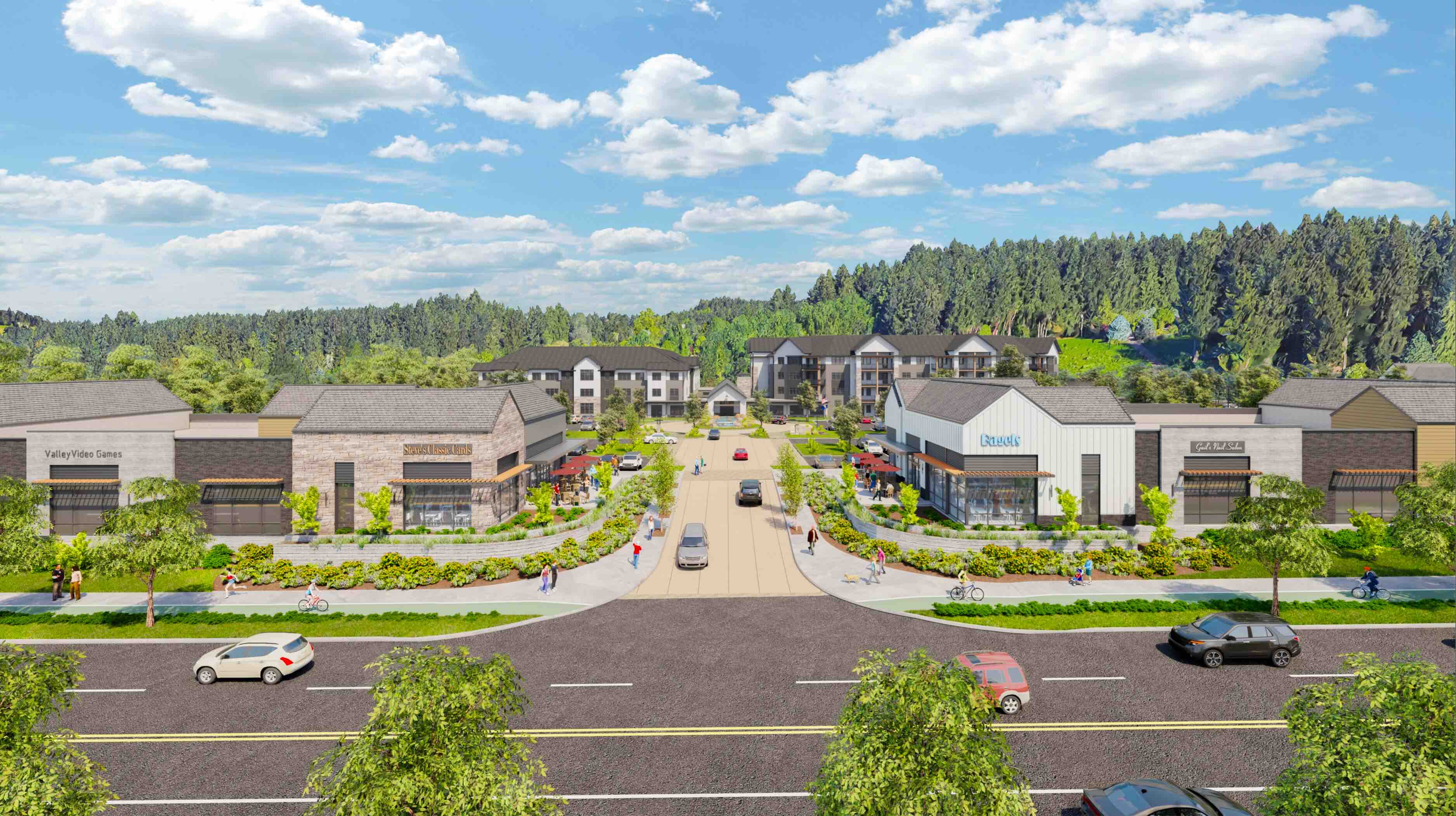 image of forthcoming Stickmen Brewing Happy Valley Taproom courtesy of Gramor Development
Later this year, Stickmen Brewing Co. will open its third taproom in Happy Valley, Oregon at Happy Valley Crossroads East. The goal is to have this Happy Valley Taproom open and operating by Fall 2021.
Today's announcement is in addition to brewery announcing another expansion this past January. Five months ago, Stickmen Brewing announced its plans to open a taproom in Cedar Mill near Beaverton. This location has experienced a few delays and will not open until Spring 2022.
Here are additional details from today's press release…
The Happy Valley taproom sits on the corner of S.E. 172nd and Vogel in a newly constructed 5,873-square-foot space, at Happy Valley Crossroads East. This location is the second phase of the shopping center led by local developer, Gramor Development, and anchored by Fred Meyer.
Similar to Stickmen's Tualatin location, the Happy Valley taproom will feature 28 taps, wood-fired pizza, and salads as well as an expansive outdoor seating area. As an added bonus it will also be an Italian-inspired coffee bar in the mornings serving espresso drinks and freshly baked frittatas.
The Cedar Mill taproom was originally slated to open this fall, but the developer has delayed the construction of the 5,000-square-foot facility at Kirkland Place Plaza at Barnes and 118th in Cedar Mill.
Principal Owner and Recipe Creator Tim Schoenheit said the timing is right to expand and the locations they selected are ripe for growth opportunities.
"We had been working on finding the right site for an expansion into Beaverton for almost two years so we were very excited to find a great space in Happy Valley so quickly after the sudden delay for the Cedar Mill project," Schoenheit said. "We are excited to add Happy Valley to our community of great beer and pizza, and we look forward to providing a fun and delicious experience for our future customers in both of the new locations."
About Stickmen Brewing Company:
Stickmen Brewing Company began in 2012 as a brewpub based in Lake Oswego, OR brewing on its seven-barrel (BBL) system. This location is home to its small-batch brewery with an expansive patio featuring Oswego Bay views, house-smoked BBQ, 28 taps, and a full bar in a family and dog-friendly atmosphere. In 2017, Stickmen opened a 60-BBL production brewery and beerhall in Tualatin. This pub is known for authentic wood-fired pizzas, 28 taps, and a large family and business-friendly event space.
Principal owner and recipe creator, Tim Schoenheit, grew up in a home where new food experiences were the norm with exposure to many cuisines. This early background fostered Tim's creativity and love of experimentation and has influenced his desire to offer a wide range of beer styles and unique beer names. Stickmen always maintains 22-24 different beers on tap, keeping year-round favorites, rotating seasonal beers, and offering…