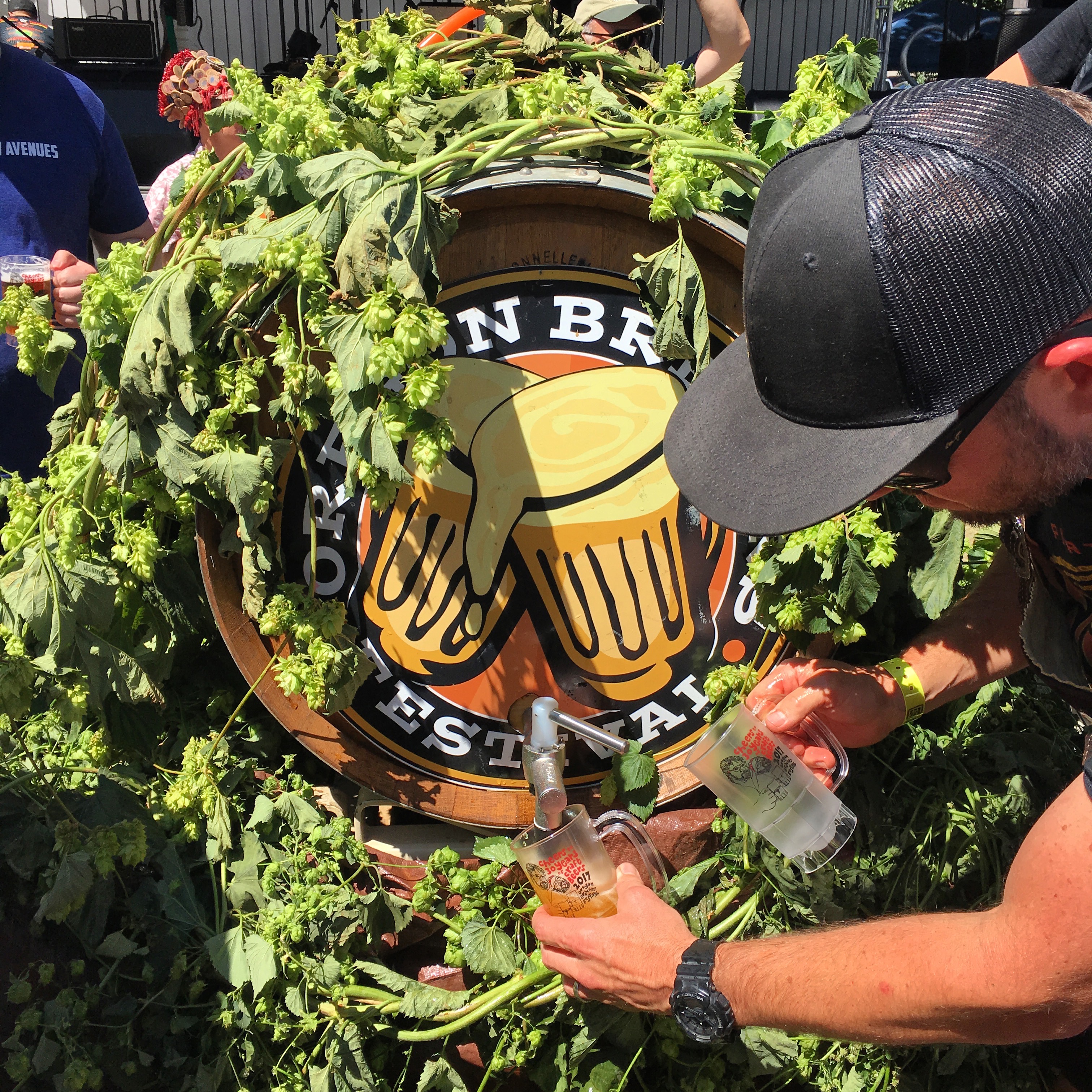 Christian Ettinger from Hopworks Urban Brewery tapping the ceremonial keg at the 30th annual Oregon Brewers Festival.
Since serving its last beer nearly three years ago, the 33rd Oregon Brewers Festival returns to Tom McCall Waterfront Park in Portland, Oregon from Thursday, July 28 through Saturday, July 30, 2022.
Founded in 1988, the Oregon Brewers Festival is one of the nation's longest-running and most beloved craft beer festivals. It's one that brings people from all over the world to attend and is a highlight of the summer here in the Rose City.
Now after a two-year hiatus, OBF returns to Portland. And with its return comes a few changes from previous years. The most noticeable change is that the festival has been downsized in both the number of days, size and beers being served.
These changes are a result of the pandemic and people traveling less due to inflation and so many other factors. Nearly half of OBF attendees arrive to the festival from outside the Portland area, therefore it was wise on Art Larrance, founder/owner of OBF, to address these issues so the festival stays financially viable.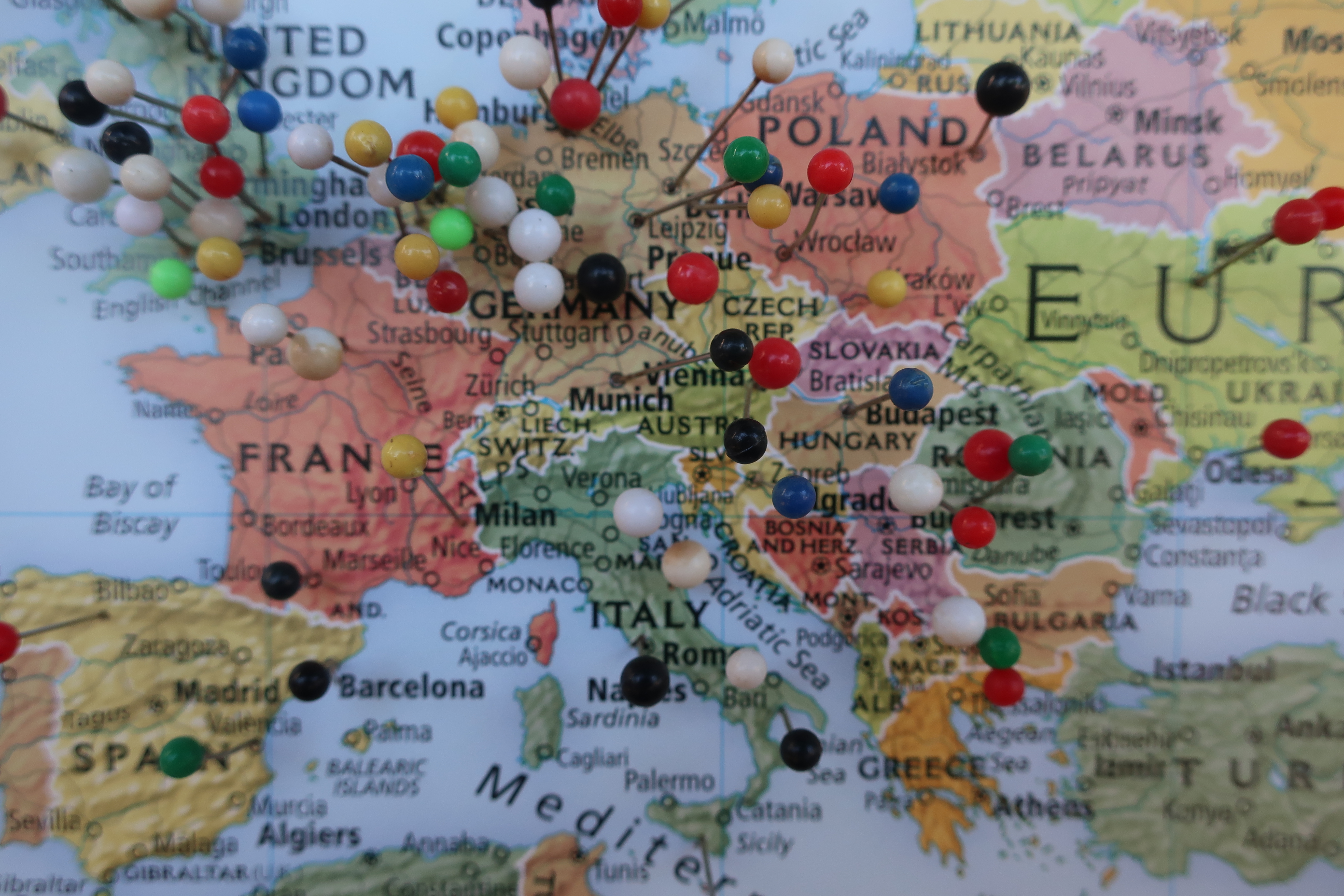 Where Do You Com From? at the 2018 Oregon Brewers Festival. We hope to see this map back up this year!

Fortunately the festival has returned and will once again take place along Portland's beautiful waterfront. For 2022, the footprint of the festival will be consolidated. It'll take place in Tom McCall Waterfront Park from the Morrison Bridge heading north to Pine Street to make for a more compact, yet enjoyable festival!
This year's lineup of beers comes full circle to the inaugural festival held in 1988 when only beers from the state of Oregon were served. For only the second time in OBF's history, it will feature only beers brewed within Oregon. Yes, all 41 beers and the two ciders are produced in 16 different cities across the state.
Of these 41 beers being served, 31 beers will be making their debut at OBF. Plus, both ciders will also make their debut at the festival. Therefore, there's plenty of choices to be had down along the waterfront this year! Here's a preview.
2022 OREGON BREWERS FEST TAP LIST:
BARREL-AGED WINE/BEER HYBRID
Alesong Brewing & Blending: Raindrops on Rose City*
BERLINER WEISSE
Ecliptic Brewing: Kinetic Kiwi*
Upright Brewing: Country Time Weisse*
BLONDE
Wild Ride Brewing: Roots of Love Lemongrass Summer Ale*
CIDER
Portland Cider Co.: Lemon Drop*
Reverend Nat's Hard Cider: Raspberry Saint Citron*
GOSE
Hammer & Stitch Brewing Co.: Raspberry Gose*
Threshold Brewing & Blending: Cheeky Dribble*
IPA
Boneyard Beer: Mental Paradise IPA
Coin Toss Brewing: Black Hohl Dark IPA
Double Mountain Brewery: Ring My Bell IPA* (Collab with Solera Brewing Co.)
Cascade Brewing: Incontrovertible Hazy IPA*
Great Notion: The Queen's Select Hazy IPA*
Migration Brewing: Passionate Phantasy Hazy IPA*