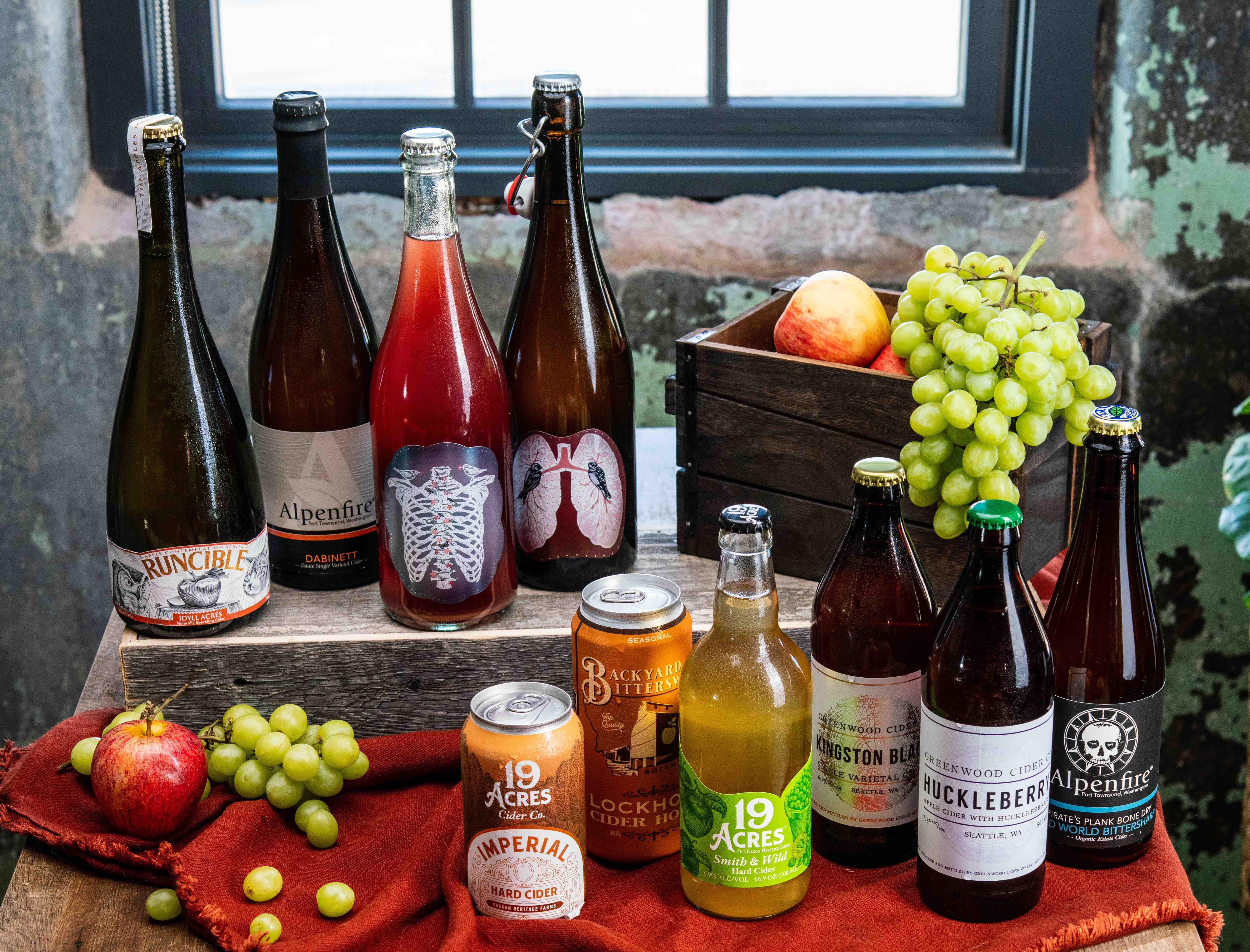 image of NW Cider Club's Fruits of the Harvest Cider Box courtesy of NW Cider Association
PORTLAND, OR. (July 22, 2022) – For those looking to discover cider styles and brands they love, this box is for you. The Northwest Cider Club's newest box release, "Fruits of the Harvest," is a collection of top ciders, unique styles and compelling fruit blends from the country's largest apple growing region – the Pacific Northwest.
Curated by industry professionals and geared toward both the cider curious and aficionados alike, this season's autumn themed collection of hard-to-find ciders highlights fruit blends with classics – a variety that showcases cider's versatility and growing popularity.
From branch to stem, bush to berry, and vine to cluster, this gathering of ciders celebrates a variety of fruit harvested in the region. The Cider Club subscription – or one-time box – features 10 unique sippers from six craft makers in Oregon, Washington and Montana, all delivered to the door. People can join the club, give a membership or order a one-time box by 8/15 for early September shipping.
Each box is curated by a professional team of cider experts and includes four to ten ciders (see below for club options), tasting notes and cheese pairing ideas from Whole Foods' fromager. Subscriptions can be held or stopped anytime with no cancellation fees, and shipping is available to most states in the US. Shipping and handling not included in prices below.
Elevated Fruits of the Harvest Club ($89):
This cider collection invites you to taste the harvest like never before, gathering four sharable (750ml sized) bottles from Oregon and Washington. Cider and wine lovers are treated to Willamette Valley grown apples, pears, plums and grapes in Art + Science Fruit Nat; treated to the flavors of a single orchard blended at harvest in Runcible Idyll Acres; given opportunity to hone appreciation for a single apple varietal with Alpenfire Dabinett; and marvel in the magic of apples and grapes co-fermented with a 50/50 blend of Gruner Veltliner white wine from Johan Vineyards and foraged Willamette Valley apples in Art + Science Symbiosis.
Discover Fruits of the Harvest ($59):
Harvest in the Pacific Northwest is a beautiful patchwork of ripe fruit reaching readiness in the orchards and mountains, across coastlines and in the valleys of the region. Always a mixed-six selection of cider bottles and cans, the Discover Club current release is a harvest-themed cider collection. Discover Fruits of the Harvest gathers a cornucopia of tastes, inviting you to sip Willamette Valley grown Honeycrisps in 19 Acres Imperial and hand-picked wild crab apples in their Smith & Wild. Cider adventures take new heights when foraging in Washington's conifer covered mountains for Greenwood Huckleberry and travel along the Olympic Peninsula coastline where Alpenfire's Pirate's Plank is grown in a maritime…