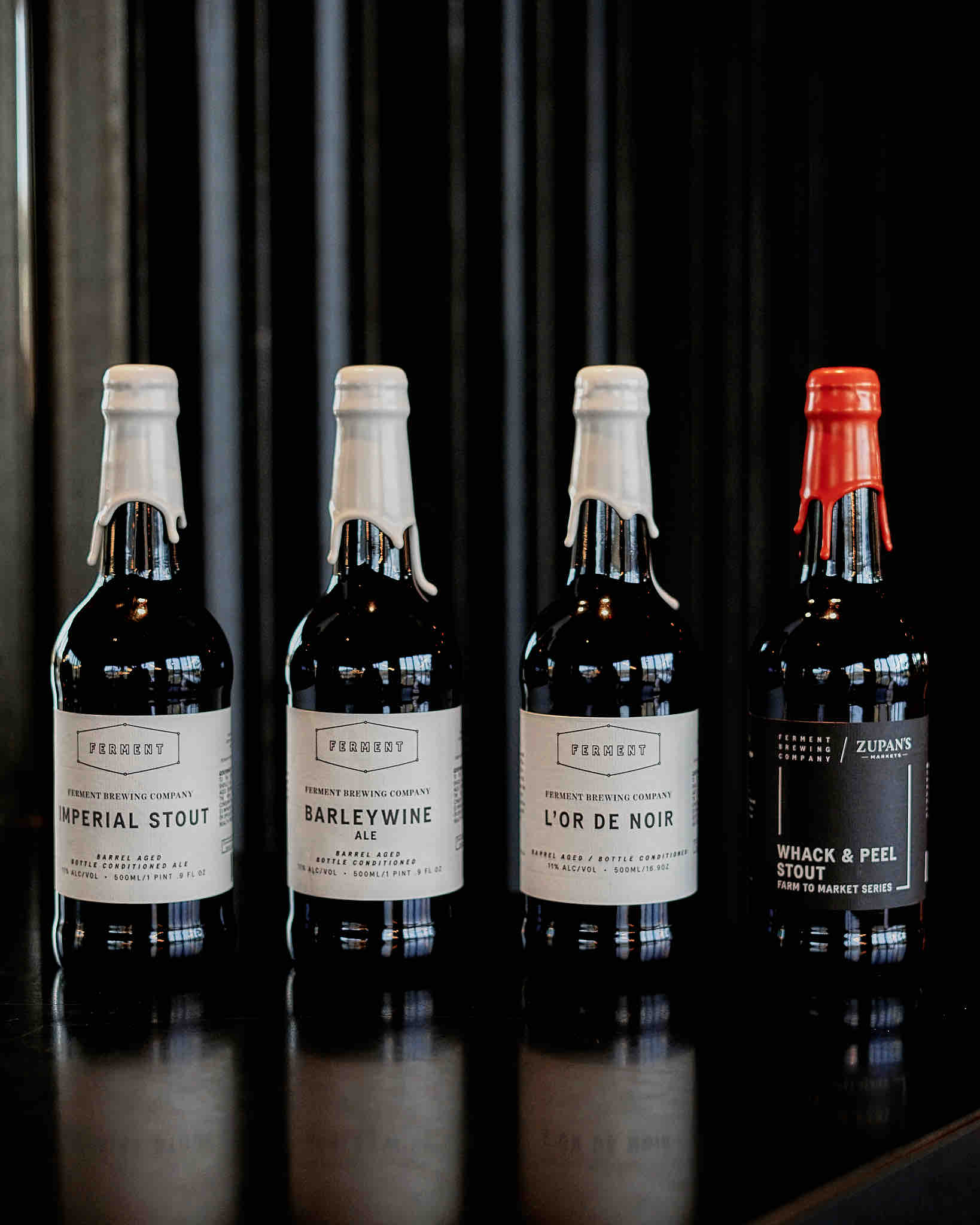 Ferment Brewing Releases Four Barrel-Aged Beers – Imperial Stout, Barleywine Ale, L'Or de Noir and Whack & Peel Stout. (image courtesy of Ferment Brewing)
In time for the changing of seasons, Ferment Brewing recently released four barrel-aged beers that run gamut of styles. These barrel-aged beers include Whack & Peel Stout, Imperial Stout, Barleywine Ale, and L'Or de Noir all coming in at 11% ABV each.
The Hood River brewer has been turning head for many of its traditional style beers but is also capable of producing bold, flavorful beers that will intrigue the geekiest of beer fans. These new four offerings are all packaged in wax dipped, 500mL bottles that are bottle conditioned, perfect for drinking now or for cellaring.
We were sent three of the offerings, all but the Imperial Stout, and tasted through Ferment Barleywine, L'Or de Noir, and Whack & Peel Stout.
Leading the bunch is the Ferment Barleywine Ale, an ode to a true English-style Barleywine. This beer began with an assertive malt bill of seven different grains when it was brewed in 2020. Then the beer was added to former French Oak wine barrels where it rested for a year prior to being bottled.
Ferment Barleywine Ale is an exceptional winter warmer that's rich and full of flavors, both from the malt bill and the time spent on French Oak. We noticed notes of toffee, dried fruit, vanilla as it finishes with a bit of oak. Only 153 cases were produced of Ferment Barleywine Ale.
Inspired by a Bière de Garde, Ferment Brewing's founder and brewmaster, Dan Peterson, wanted to create his own interpretation of this French farmhouse beer. The result is L'Or de Noir, a wild ale that now marks its third release from the brewery. The beer underwent primary fermentation with the brewery's wild yeast strain collected in the neighboring Mt. Hood National Forest. Secondary fermentation occurred over organic wine lees from Idiot's Grace Winery in Mosier while the beer matured in red wine barrels. This various fermentation created a beer that is full of flavorful wine characteristics and finishes with a hefty dose of tartness. L'Or de Noir is a perfect beer for those looking for a beer that can truly take your palate on a wild ride.
On one of its two barrel-aged stouts, Ferment Brewing collaborated with Zupan's Markets as part of the grocer's Farm to Market series. Farm to Market Whack and Peel Stout attempts to emulate the popular holiday orange chocolate candy. In doing so, the stout was aged in rum barrels and steeped on sweet orange peels from Spain and bitter orange peels from Haiti and Paraguay.
Whack and Peel Stout is full of flavors of chocolate and dried oranges alongside a bit of sweetness from the time spent in the rum barrels. The barrel character…